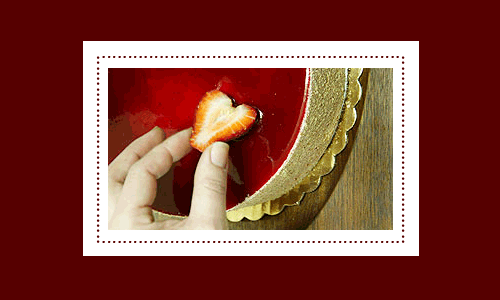 Place your order now for one of our extra-special Valentine's Day cakes — shaped like a heart, and available in a variety of flavors, including fruit tarts, chocolate ganache, creme brulee tarts, our award-winning Renaissance cake and many more.
These special "cakes for two" are designed to help you celebrate the most romantic day of the year with the most romantic dessert available. For an even more exquisite presentation, pair your cake with some of our freshly dipped semi-sweet and white chocolate-covered strawberries or our hand-made gourmet truffles.
Also available for Valentine's Day are our heart-shaped butter cookies and our hand-iced cupcakes, which come in an array of our most popular flavors, including red velvet cake with strawberry cream cheese frosting.
Heart-shaped cakes and chocolate-covered strawberries will be available for pick-up on Saturday, February 13, 8am – 6pm, and Sunday, February 14, 8am – 1pm. The full menu is available for download here.
Valentines cookies, cupcakes and hand-dipped truffles are available everyday until February 14.